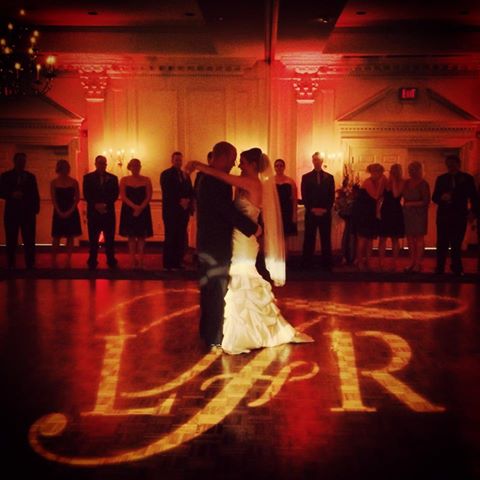 On Saturday, July 6th, I had the of pleasure of DJing a "Dream" Destination Wedding @ The Desmond Hotel & Conference Center for the new Mr. & Mrs. Ryan & Lynn Fitzgerald!
It all started with a referral from TheKnot.com and a telephone call from Lynn's Dad, Rick, back in February of 2012.  Lynn was living in California and he, along with his wife – Nancy, were helping to plan her "Dream" Destination Wedding Day in Albany, NY via from their home in Massachusetts!!  What a task for the Parents of the Bride!  Later that week I received a call from Lynn.  I hit it off immediately with both Lynn and her Parents!  They were so nice!  They booked me within a week after our initial conversations.
Rick wanted THE BEST for his daughter!  He had me not only DJing the Reception, but also providing Music for their Ceremony, along with 18 Up Lights and even a "Surprise" Custom Monogram for Lynn & Ryan!
Their Wedding Day went off without a hitch!  Perfect, just perfect!  The Bride & Groom danced the night away with their family & friends and lived happily ever after!   Hey, it was a "Fairy Tale" Dream Wedding right?  That's they way they all end!  🙂
I love my job!  Not only do I get to DJ for "Super" Brides & Grooms, but I also get to deal with "Super" Parents of the Bride & Groom as well!
Last week I received a 5 Star Review on WeddingWire.com from Lynn and a 5 Star Review from her Dad, Rick, too!  My very first review from a Father of the Bride!
I have listed them both below.  Thank you Lynn & Ryan and Rick & Nancy!!  I am very grateful!!
Lynn's Review – "Mike was absolutely amazing!  He made our day so special and had the guests on the dance floor all night.  We planned our wedding from CA, but got married in NY and he was always so easy to get in touch with and very flexible.  If you want a DJ that will play great songs and keep the guest dancing, go with Music Man Entertainment."
Rick's Review – "We were so fortunate to have Mike Garrasi (Music Man Entertainment) for our daughter's wedding at the Desmond Hotel in Albany, NY.  Mike was truly awesome to work with.  From the start, when we first talked to him we could tell he was going to do a great job…and he did.  Mike provided the music for the ceremony, the cocktail hour and the reception.  We also had Mike provide the up-lighting and monogram and it was amazing !!!  It made the ballroom look spectacular.  Mike truly made Lynn and Ryan's Wedding so special and we can't thank him enough for all he did.  He is GREAT!!"