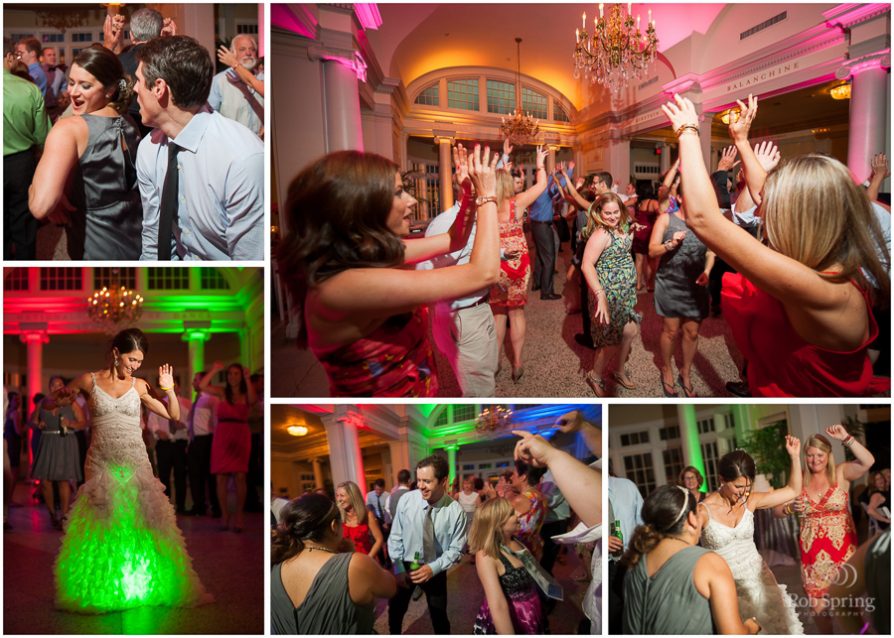 The photo collage, shot by my great friend – Photographer Rob Spring says it all!  What a Party!
Leah & Collin celebrated their Wedding Ceremony & Reception on Friday, June 21st @ The National Museum of Dance in Saratoga Springs, NY.  They had a picture perfect day!  Not a cloud in the sky!  From Beginning to End, their guests celebrated the evening on the Dance Floor.  As you can see from the photo's, they went with my "Wireless" Up Lighting Package.  Too funny!!  The catering that evening was presented by my friend – Rebekah & her "World Class Waitstaff" at Longfellows!  They knocked it "Out Of The Park"!
Leah & Collin gave me a 5 STAR Rating on WeddingWire.com and even wrote a few kinds words too!
"Mike Garrasi is incredible and a true professional.  I am so glad we hired him for our June 2013 wedding at the National Museum of Dance.  He came hours early and set up 3 "spots" for us- cocktail, ceremony and reception.  How did he even do that?!  He knew the acoustics were a little strange (echo-y) and brought the appropriate equipment, a smaller system which sounded great.  He and the other vendors worked well together; the day was just so easy and the timing was perfect!!  He mik-ed up my officiant, and had the microphone for us when we did our vos (I wanted people to hear us).  He checked in with us a few times to make sure everything was ok which I appreciated so much.  Mike knows he's awesome and is an amazing party starter but the great thing about him is he still works for it and wants you to be so happy on your wedding day!  He really can "read" crowds and will do what you want."
"Another great thing is Mike gets back to you ASAP!  In the wonderful world of wedding vendors, it can be so frustrating when people don't call you back.  Not Mike!!"
"Last story… My hubby and I decided super last minute we wanted to dance to this random Brazilian song after our cake cutting.  I totally threw this at Mike and he didn't have the song ("Balada Boa".. random).. well, he bought it on his little iPod right then and there and we had a special fun dance together.  Such a nice thing!  I owe you a dollar, Mike!!"
"Hire him today. Seriously. He books up fast so call him now!!"
THANK SO MUCH!
Leah and Collin
I can not thank Leah & Collin enough for such an AMAZING Review!!  Thank you, thank you, thank you!!