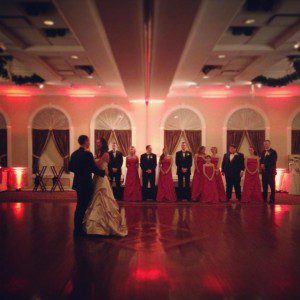 On Friday evening I had the please of DJing Sarah & Lee's Wedding Reception @ Glen Sanders Mansion!  Super Cool Bride & Groom!  Amazing Reception!  Their Family and Friends were on the Dance Floor the entire night!  Sarah & Lee went with my "Enhancement Up Lighting Package" which features 8 Lights.  The lights really transformed the Ballroom to match their Wedding Colors.
Within 24 hours I had received a 5 Star Review on WeddingWire from Lee!!  Unbelievable!
"The Music Man is a must at any wedding.  He takes care of everything from start to finish.  Made our special night perfect.  Thanks Mike, Lee & Sarah!!!!!!"
Thank you Lee & Sarah!