Downtown Albany's "The State Room" 5 Star Wedding Reception Review!
Back on November 10th, I had the pleasure of DJing a really "Amazing" Wedding Reception at The State Room in Downtown Albany for Paige & Matthew.  They were a Fantastic Bride & Groom!  Their guests traveled from all over the United States and even as far away as Poland to attend their wedding.  The ballroom at The State Room looked beautiful with Paige & Matthew's  "Up Lighting" and a Custom "Monogram Light" on the ceiling!  What a party!!  Their guests danced the entire night away!
I also had the pleasure of working with a few of my Great Friends!!  Tom + Lisa and the entire staff at The State Room!!  What a crew and what cuisine!!  5 Stars!!
The Wedding & Event Planner who "Sparkles" the most – Katie O'Malley!!  She is awesome!
And the "Rock Star" Photographer – Chris Sawicki!  Killer shots!!  Just check out his blogs!!  He ROCKS!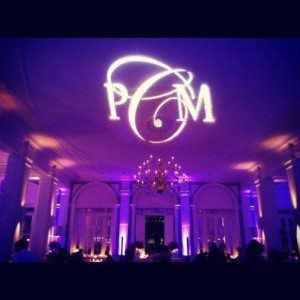 This afternoon I received a great review from Paige on WeddingWire that I wanted to share to with everyone.
"Mike is an amazingly friendly and energetic professional.  He really makes you smile and is willing to accommodate you in any way he can.  We really put him to the test with a lot of ethnic music and traditions and he helped us pull it off without a hitch.  It's easy to see why people love working with him so much.  Thanks Mike!"
Thank you Paige & Matthew!!