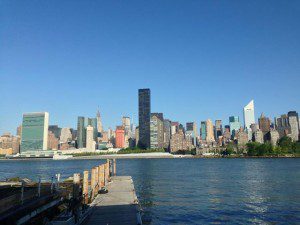 On Sunday, June 2nd, I had the opportunity to DJ a Beautiful Summer Wedding in New York City, directly across from Manhattan's – Empire State Building & The United Nations Building! The venue was called The Water's Edge and was on the Hudson River!  What a view!  Dana & Paul were the Bride & Groom and two of the nicest people I've ever met!  So nice and just down to earth!  The wedding was just perfect with a great dance floor and a beautiful back drop of NYC!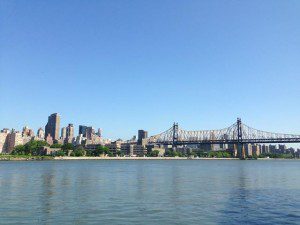 5 days after their wedding day, I received this "Amazing 5 Star Review"!
"Mike Garrasi was the first vendor we hired for our wedding, and it was the best decision we made!  He came all the way to Long Island City in NYC for our wedding and was there bright and early.  He was so accommodating and was so receptive to our special requests, some of them we changed at the last minute and he was with us every step of the way.  Everyone had such a great time and he tailored his music selections to our particular tastes.  He was such a pleasure to work with and we would recommend him without hesitation to anyone!  He was so good, my brother asked if he would come to Korea for his upcoming wedding 🙂  Thanks Mike for everything!"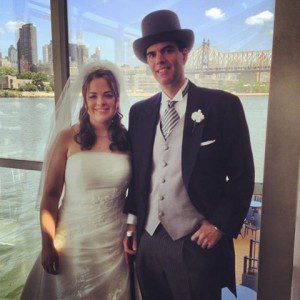 Thank you Dana & Paul!  It was such a thrill for me to travel to NYC for your wedding and then to be offered to DJ your brother's wedding in South Korea!!  Unbelievable! Just Unbelievable!
I wish you a lifetime of happiness!!