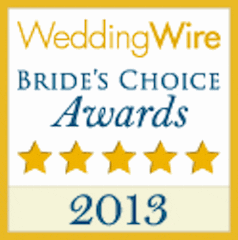 Just found out that I won the 2013 WeddingWire Bride's Choice Award!!  This is my second year in a row that I have won this award!
This means I am in the top 5% of Wedding Pros nationwide!  The WeddingWire Bride's Choice Awards™ recognizes the top local wedding professionals from the WeddingWire Network that demonstrate excellence in quality, service, responsiveness and professionalism.
I am so grateful to all the Bride's & Groom's who have taken the time to give me amazing reviews on WeddingWire!  Thanks a million!!